Posts for: November, 2014
By Robert A. Klement, DDS
November 19, 2014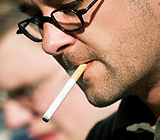 In a recent study, 92% of dental implants were found to have survived the twenty-year mark — an impressive track record for any dental restoration.
Still, implants do fail, although rarely. Of those failures, tobacco smokers experience them twice as often as non-smokers. The incidence of early failure (within the first few months after implantation) is even higher for smokers.
Early implant failure typically happens because the titanium implant and the surrounding bone fail to integrate properly. Titanium has a natural affinity with bone — the surrounding bone will attach and grow to the titanium in the weeks after surgery, forming a strong bond. An infection around the implant site, however, can inhibit this integration and result in a weaker attachment between bone and implant. This weakness increases the chance the implant will be lost once it encounters the normal biting forces in the mouth.
Smokers have a higher risk of this kind of infection because of the way tobacco smoke alters the environment of the mouth. Inhaled smoke burns the mouth's top skin layers and creates a thick layer of skin called keratosis in its place. Smoke also damages salivary glands so that they don't produce enough saliva to neutralize the acid from food that's left in the mouth after eating. This creates an environment conducive to the growth of infection-causing bacteria. At the same time, the nicotine in tobacco can constrict the mouth's blood vessels inhibiting blood flow. The body's abilities to heal and fight infection are adversely affected by this reduced blood flow.
The best way for a smoker to reduce this early failure risk is to quit smoking altogether a few weeks before you undergo implant surgery. If you're unable to quit, then you should stop smoking a week before your implant surgery and continue to abstain from smoking for two weeks after. It's also important for you to maintain good brushing and flossing habits, and semi-annual dental cleanings and checkups.
Although smoking only slightly raises the chances of implant failure, the habit should be factored into your decision to undergo implant surgery. Quitting smoking, on the other hand, can improve your chances of a successful outcome with your implants — and benefit your life and health as well.
If you would like more information on the effects of smoking on dental health, please contact us or schedule an appointment for a consultation.
By Robert A. Klement, DDS
November 04, 2014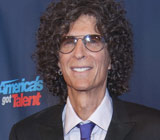 Is there anything that radio and TV personality (and self-proclaimed "King of All Media") Howard Stern doesn't want to talk about in public? Maybe not — but it took a caller's on-air question to get the infamous shock jock to open up about his own dental work.
When he was directly asked if his teeth were capped, Stern said no. "I redid 'em [some time] ago… I had bonding and um… veneers… over my real teeth. But I don't get that 'Hollywood white' though," he said, before adding his uncensored opinion on the subject of proper tooth shades.
As we're sure Stern would be the first to point out, everyone has a right to their own opinion. But we're pleased that Howard brought up an important point about veneers: They are custom-made in a whole range of different shades, from a more 'natural' tooth color to a brilliant white shine. Which one you select depends on what look is right for you — and that's your choice.
In case you aren't familiar with veneers, they are fingernail-thin coverings made of porcelain, which are bonded onto the surfaces of the teeth. This enables them to hide a number of defects — like chips, discoloration, and even small irregularities in spacing. They can also be used to lengthen teeth that seem out of proportion to the gums, lips or other facial features.
Veneers are among the cosmetic dental treatments most favored by Hollywood stars… as well as regular folks who want a dramatic improvement in their smile. Unlike crowns (caps), which generally require extensive reshaping of the tooth, standard veneers require the removal of just fractions of a millimeter of tooth surface. That makes them a minimally invasive method of smile enhancement that can make a big difference in your appearance. In fact, veneers are often a major part of a complete "smile makeover."
Dental veneers are custom made in a laboratory from a mold of your teeth. They are designed to fit your teeth perfectly — and to be just the shade you want. When you come in for a consultation, we will discuss what you like and don't like about your smile, and how we might improve it. Will you opt to get the brilliant "red-carpet" smile you always wished for… or go for a subtle, more natural tooth color? Only you can decide.
Howard Stern's veneers may be the most restrained thing about him… but we're just glad that veneers helped him get the kind of smile he wanted. You can, too. If you would like more information on dental veneers, please contact us or schedule an appointment for a consultation. You can learn more about this topic in the Dear Doctor magazine articles "Porcelain Veneers" and "Porcelain Crowns & Veneers."