Posts for: March, 2015
By Robert A. Klement, DDS
March 25, 2015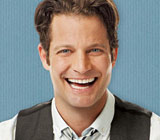 Design expert and television celebrity Nate Berkus has definite ideas about how to live. In a recent interview, he explained his ideas on design. He also talked about health, and how he keeps his teeth and mouth healthy.
From an initial design makeover that he did eight years ago on the Oprah Winfrey Show, Berkus has gone on to do 127 such makeovers. He was such a success that he now hosts his own daily talk show. He has also developed a line of home products for the Home Shopping Network and has his own design firm, Nate Berkus Associates. His clients include well-known restaurants and hotels as well as private homes. He has written articles for O Magazine and authored a book on the subject of transforming your home into a place you love.
"I realized many years ago that I wasn't going on Oprah to pick sofa colors and paint chips. I was there to lift people up through the way they live," he says. His secret to design success is to "go with what you love." He says, "Don't worry about mixing metals, eras or styles. If you love each item, you'll find a way to make it work."
His common sense practical attitude continues when it comes to dental health. Berkus is blessed with a healthy mouth and teeth. He doesn't feel anxious when visiting the dentist because he usually has a good report. He has not needed orthodontics or cosmetic dentistry. He thanks his childhood dentist for giving him fluoride treatments and sealants, and for teaching him healthy dental hygiene habits.
Berkus brushes his teeth twice or even three times a day, with a manual or electric toothbrush — depending on whether he is at home or traveling. He also follows his dentist's advice about flossing: "Floss the ones you want to keep!" He says that he tried tooth whitening once, but he felt that the whiteness was "too white." Now he simply works to maintain his natural tooth color and smile.
Contact us today to schedule an appointment to discuss your questions about maintaining healthy teeth. You can also learn more by reading the Dear Doctor magazine article "Nate Berkus, Helping Others Love the Way They Live."
By Robert A. Klement, DDS
March 10, 2015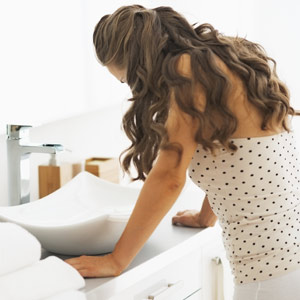 While most dental problems are caused by disease or trauma, sometimes the root problem is psychological. Such is the case with bulimia nervosa, an eating disorder that could contribute to dental erosion.
Dental erosion is the loss of mineral structure from tooth enamel caused by elevated levels of acid in the mouth, which can increase the risk for decay and eventual tooth loss. While elevated acid levels are usually related to inadequate oral hygiene or over-consumption of acidic foods and beverages, the practice of self-induced vomiting after food binging by bulimic patients may also cause it. Some of the strong stomach acid brought up by vomiting may remain in the mouth afterward, which can be particularly damaging to tooth enamel.
It's often possible to detect bulimia-related erosion during dental exams. The bottom teeth are often shielded by the tongue during vomiting, so erosion may be more pronounced on the unshielded upper front teeth. The salivary glands may become enlarged, giving a puffy appearance to the sides of the face below the ears. The back of the mouth can also appear red and swollen from the use of fingers or objects to induce vomiting.
Self-induced vomiting may not be the only cause for dental erosion for bulimics. Because the disorder causes an unhealthy focus on body image, bulimics may become obsessed with oral hygiene and go overboard with brushing and flossing. Aggressive brushing (especially just after throwing up when the tooth enamel may be softened) can also damage enamel and gum tissue.
Treatment must involve both a short — and long-term approach. Besides immediate treatment for dental erosion, a bulimic patient can minimize the effect of acid after vomiting by not brushing immediately but rinsing instead with water, mixed possibly with a little baking soda to help neutralize the acid. In the long-term, though, the eating disorder itself must be addressed. Your family doctor is an excellent starting point; you can also gain a great deal of information, both about eating disorders and treatment referrals, from the National Eating Disorders Association at their website, www.nationaleatingdisorders.org.
The effects of bulimia are devastating to mental and physical well-being, and no less to dental health. The sooner the disorder can be treated the better the person's chance of restoring health to their mind, body — and mouth.
If you would like more information on the effect of eating disorders on oral health, please contact us or schedule an appointment for a consultation. You can also learn more about this topic by reading the Dear Doctor magazine article "Bulimia, Anorexia & Oral Health."